AMMFight
Follow @NotiFight
El invicto peso ligero de UFC, Khabib Nurmagomedov, ahora enfrentará al originario de New York Al Iaquinta, por el título oficial de peso ligero. La pelea se llevará a cabo este sábado en UFC 223: Khabib vs Iaquinta en el Barclays Center.
El cambio en el evento principal ocurrió cuando el campeón de peso pluma, Max Holloway, se consideró no apto para pelear.
Debido a que Iaquinta no está en el límite de peso de campeonato de las 155 libras, el título de peso ligero de UFC solo será elegible para ser ganado por Nurmagomedov. Si Iaquinta gana, no se le otorgará el título, pero si Nurmagomedov gana, se coronará como el campeón indiscutido.
Iaquinta tiene una racha de cinco peleas ganadas con victorias notables sobre Jorge Masvidal, Kevin Lee y Diego Sanchez. El sábado, obtiene la pelea más importante de su vida en su estado natal contra el peso ligero más temido del planeta.
Debido a un cambio en el evento principal, los clientes pueden recibir un reembolso completo del boleto en el punto de compra original.
CARTELERA ESTELAR 9pm MEX/11pm ARG
Khabib Nurmagomedov (154.5) Al Iaquinta (11) (155.2)*
Rose Namajunas (C) (114.2) vs Joanna Jedrzejczyk (1) (114)
Renato Moicano (11) (145.6) vs Calvin Kattar (13) (145.4)
Zabit Magomedsharipov (145.8) vs Kyle Bochniak (145.2)
Joe Lauzon (155.4) vs Chris Gruetzemacher (155)
CARTELERA PRELIMINAR 7pm MEX/9pm ARG
Karolina Kowalkiewicz (4) (115) vs Felice Herrig (8) (115.4)
Bec Rawlings (125.8) vs Ashlee Evans-Smith (125.8)
Evan Dunham (14) (155.8) vs Olivier Aubin-Mercier (155)
Devin Clark (205.2) vs Mike Rodriguez (203)
*Solo Nurmagomedov es elegible para ganar el título de peso ligero debido a que Iaquinta no está en el límite exácto de 155 libras requerido.
Ve UFC 223 en México por Fightings Sports Network en México. En Centro y Sur América las preliminares se transmitirán por FOX Sports y la cartelera estelar por FOX Premiun.
Follow @NotiFight
Articulos Similares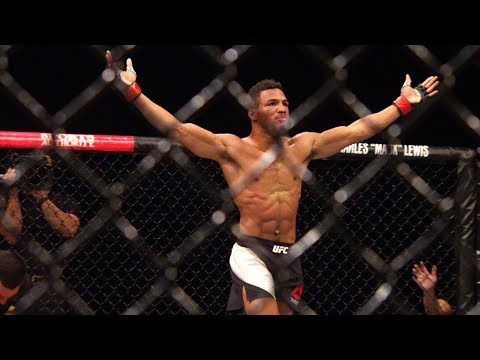 UFC champ and analyst Daniel Cormier previews the Fight Night Atlantic City main event, featuring Kevin Lee and Edson Barboza....
Read More
Write a Comment